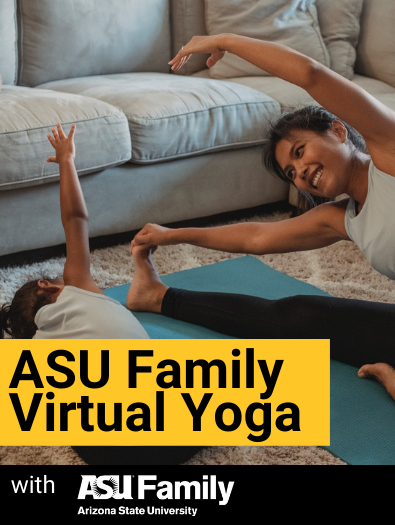 ASU Family Virtual Yoga - Spring '22
Invite healthy fun into your home. Tune in for free Zoom yoga classes designed with young yogis in mind. Classes will be easy to follow for all ages and cover concepts like healthy stretching and mindful breathing. No materials are needed to participate, but comfortable clothing is encouraged. Yoga instruction will last 45 minutes.
Follow along with other families across the country in this three-week virtual yoga series. All classes will be broadcast live from ASU 365 Community Union at 11 a.m. Registration is free and open to the public.
Event Information
All classes are currently led online via Zoom online meetings. After registration is complete, guests will receive an individual confirmation email with a Zoom link to access the classes.