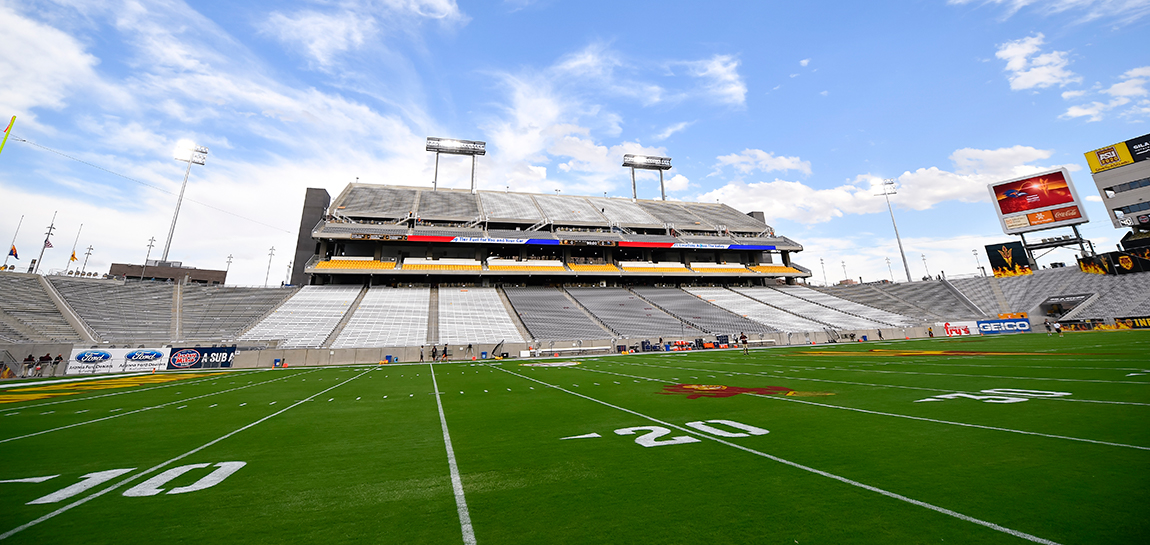 Directions
Sun Devil Stadium is conveniently located just south of the 202 Freeway Exit at Rural Rd. 
Nestled between the historic Hayden Butte and "A Mountain", Sun Devil Stadium's empowering yet beautifully streamlined facade naturally overlooks the splendor of Tempe Town Lake, Tempe Beach Park, and the Tempe Waterfront Business Complex Area. 
Though it currently technically occupies real estate at the northernmost edge of Arizona State University's Tempe Campus, Sun Devil Stadium will soon find itself perfectly positioned as both the figurative and literal "central hub" of cultural activity for ASU and the City of Tempe. Progress toward the completion of the ambitious NOVUS Innovation Corridor continues; a multi-phase, 350-acre development integrating more than 10 million square feet of urban office, retail and residential space.
Please utilize the directions provided below and maps attached to help you find your way to the ASU 365 Community Union, no matter what part of town you're coming from! 
From the North (Scottsdale):
Take the Loop 101 South to the Loop 202 West
Exit Scottsdale Rd. (exit #7); Turn left (South)
Sun Devil Stadium is on the right 
 
From the South (Chandler/Gilbert):
Take the Loop 101 North
Exit University Dr. (exit #52); Turn left (West)
Turn right on Veterans Way; Turn right on Sixth St.
The stadium parking lots are to the left and right

From the East (Mesa):
Take US-60 West to the Loop 101 North
Exit University Dr. (exit #52); Turn left (West)
Turn right on Rural Road; Turn left on Sixth St.
The stadium parking lots are to the left and right

From the South (Casa Grande):
Take I-10 to US-60 East
Exit Mill Ave. (exit #173); Turn left (North)
Turn right on University; Turn left on Veterans Way; Turn right on Sixth St.
The stadium parking lots are to the left and right

From the West (Glendale)
Take I-10 East to the Loop 202 East
Exit Scottsdale Rd. (exit #7), Turn right (South)
Sun Devil Stadium is on the right