ASU Bag Policy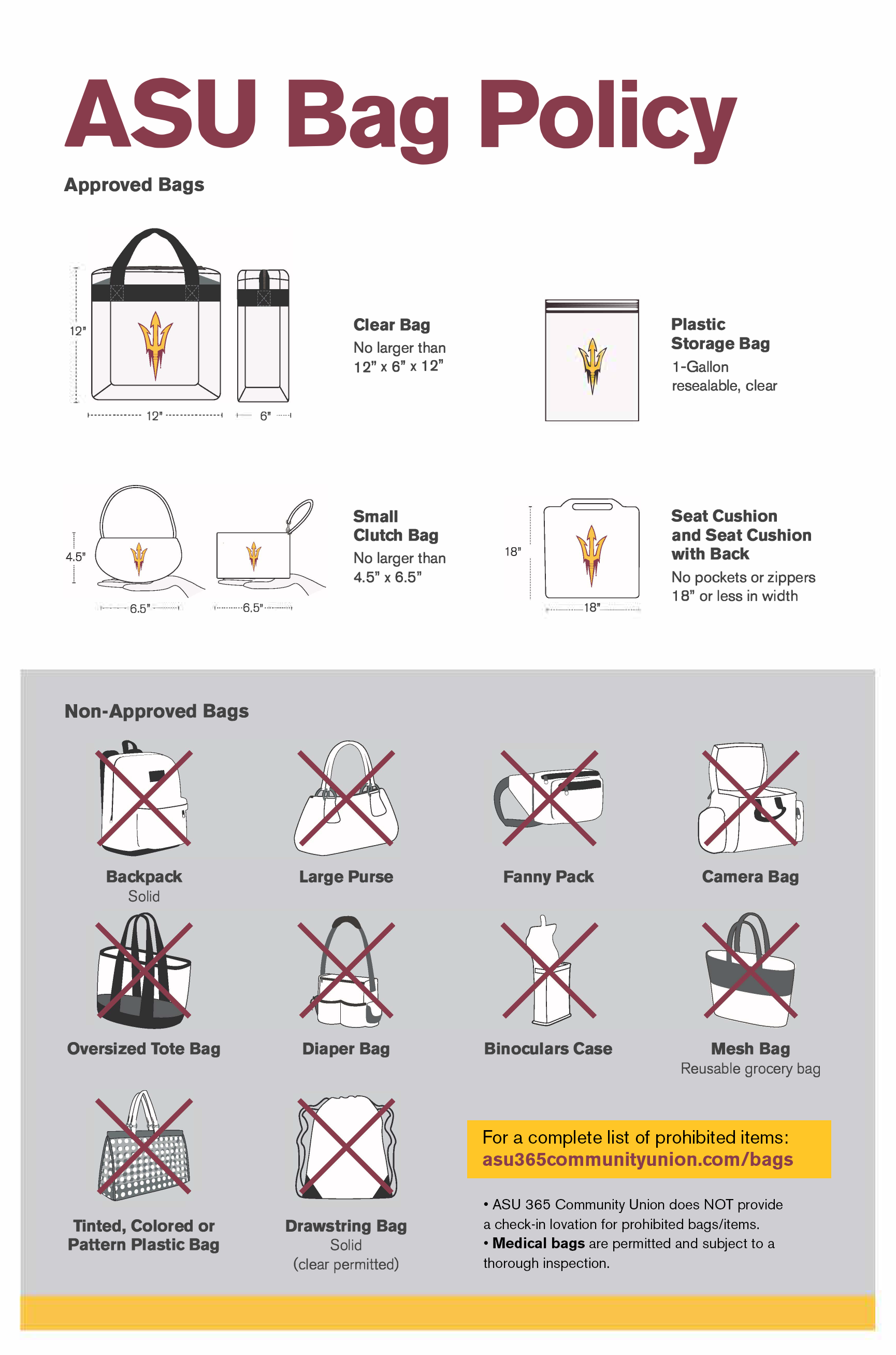 ASU 365 Community Union has a CLEAR BAG POLICY at Sun Devil Stadium and Desert Financial Arena events. This proactive measure will enhance safety inside and outside of the athletic venues and speed the security screening process for all guest. The following bags are NOT allowed inside:
Backpacks (solid)
Large purses
Fanny packs
Camera bags
Oversized tote bags
Diaper bags
Binoculars case
Mesh bag (reusable grocery bag)
Tinted, colored or patterned bag
Solid colored drawstring bag
The following bags ARE allowed inside Sun Devil Stadium events:
Bags that are clear plastic, vinyl, or PVC and do not exceed 12" x 6" x 12"
One-gallon clear plastic freezer bag (Ziploc bag or similar)
Small clutch bags (no larger than 4.5" x 6.5") with or without a handle or strap
Seat Cushion & Seat Cushion with Back (no pockets, 18" or less in width)
Medical Bags are permitted and subject to a thorough inspection.
Please note there is not a check-in location for prohibited bags/items.
PROHIBITED ITEMS 
For the safety and security of our guests, all prohibited items must be returned to the owner's vehicle or discarded prior to entry. There are no provisions to check prohibited bags or items at the stadium. Guests will be asked to either return prohibited items to parked vehicle, if they have not entered the stadium, or dispose of prohibited items at the gate. Arizona State University and ASU 365 Community Union are not responsible for items left behind, lost, stolen, or damaged. 

The following items are prohibited inside Sun Devil Stadium and are causes for removal. No refunds:
Soft or hard sided coolers, ice chests
Glass or metal containers
Outside beverages
Tortillas
Balloons
Use of tobacco products, including e-cigarettes and smokeless cigarettes/tobacco
Cameras with detachable lenses greater than 6" or video cameras
Tripods, monopods, or selfie sticks for cameras/phones
Full size strollers
Backpacks, bags, and other similar bags larger than 8" X 5" X 1"
Bikes, skateboards, scooters, hoverboards, longboards
Large golf umbrellas
Pitchforks (metal, wood, plastic)
Sticks, poles, or similar objects that can be used as a weapon
Weapons of any kind
Fireworks, drones, or laser pointers
Artificial noisemakers (example: air horns, thunderstix, musical instruments, cans filled with contents, whistles, cow bells, or any other item used to make artificial noise)
Pets/animals
Clothing deemed obscene, indecent, and or offensive
Chairs or stools
Banners or signs larger than 3' X 2'
Dry erase boards
*Please note that this list is not inclusive, as other items may not be allowed
 
Only the following items will be permitted upon entrance into this ASU Athletic Venue:
Bags that are clear plastic, vinyl or PVC and do not exceed 12" X 6" X 12"
One-Gallon clear plastic freezer bag (ziploc bag or similar)
Small clutch bags (no larger than 4.5" X 6.5") with or without a handle or strap
Medically necessary items after proper inspection
Factory sealed water bottles 51 oz. / 1.5 liters or smaller
Hand sanitizer 3 oz or less
Empty non-disposable plastic water bottles
Small retractable umbrellas
Umbrella strollers
Service animals
Seat cushions or chair backs must be 18" or less in width (no pockets, compartments, or covers)
Signs smaller than 3' X 2'
What is the Clear Bag Policy?
To enhance public safety and make stadium access more efficient, ASU adopted a Clear Bag Policy. Patrons may bring in one (1) clear bag no larger than 12" x 6" x 12" or a 1-gallon plastic storage bag. Patrons are limited to one clear bag per person, along with a small clutch or purse for privacy. Please refer to the pictures above for non-approved bags.

Why did Arizona State adopt this policy?
ASU has adopted the Clear Bag policy to enhance public safety at our venues and provide a great game day experience by making the stadium access more efficient. This proactive measure will enhance security inside and outside of the athletics venues and speed up the security screening process for all guests.

How does the new policy improve public safety?
Prohibited bags will be turned away. Any prohibited bag will be highly visible and be corrected immediately.  The clear bag is easily and quickly searched and greatly reduces faulty bag searches.  The policy also supports the Department of Homeland Security's "If You See Something, Say Something" campaign. 

How does this make it more convenient for guests?
The policy will enable us to move guests through our security checkpoints faster, allowing staff to be more efficient and effective at checking bags that are brought into the venues.  Shorter lines mean quicker entry and fewer hassles.  Guests will enjoy an improved sense of safety while spending less time in lines at stadium gates.

Do I have to purchase a bag from the venue?
There are a variety options, including a clear 12" by 6" by 12" bag with no commercial identification or an inexpensive Ziploc bag.  In addition, guests may carry their own small clutches.  For guests who wish to purchase team logo bags, they are available at stadium shops during opening hours.

How many bags can each person bring into the venue?
Each guest can carry one (1) large clear bag – either a one-gallon Ziploc-style bag or the 12" by 6" by 12" clear bag – plus a small clutch purse (4.5" x 6.5"). The small clutch allows privacy for small personal items and also is easily searched.

Can guests carry cameras, binoculars, smart phones or tablets separately from what they put in a clear bag?
All of these items can be carried into the stadium as long as they are not in a bag or case.  For example, while binoculars and cameras are allowed, the binocular case or camera case is not allowed.  This is not a restriction on game day items brought into the stadium, only a restriction on the type of container used to carry the items.

Are seat cushions allowed to be carried into the venue?
Only approved seat cushions may be carried into the venue. Large traditional seat cushions that have pockets, zippers, compartments or covers are not permitted.  Seat cushions and seat backs without pockets, zippers, compartments or covers are permitted.  Seat cushions and chair backs must be 18" in width or less.

Can I bring a blanket and extra jackets/clothing into the venue during cold weather?
Guests may bring these items into the athletics venues by tossing them over a shoulder or arm.  Items that are folded must be opened and inspected in order to gain entry into the venue.

What happens if I show up at the gate with a bag that is not permitted?
Guests carrying a prohibited bag will not be permitted inside the venue.  Guests with prohibited bags will need to return their bags to their vehicle and transfer their belongings to an approved clear plastic bag before entering the venue.

If I have certain items that I need to bring into the venue for medical reasons and they won't fit in the clear bag, what do I do?
Guests carrying medically necessary bags or equipment into a venue will be required to have their bag inspected security. For questions about medical equipment or other needs please contact the Athletics Operations office at 480-965-0281.

Are all purses prohibited?
No. Small clutch purses, with or without a handle or strap, are permitted along with either the 12" by 6" by 12" clear tote bag or one-gallon freezer bag. This should enable guests to carry the same items they have in previous years and expedite entry into the venue. We strongly encourage guests not to bring any bags, but have implemented a policy that appropriately balances the needs of our guests with our obligation to provide for their safety.

Do I have to put everything I'm carrying into the permissible bags?
No. We are limiting only the type of bags carried into the venue, not items that you normally bring to a game.  Therefore, you can carry items (keys, makeup, feminine products, comb, phone, wallet, credit cards, etc.) in your pockets or jacket if you choose not to use a clear bag or clutch purse (4.5" x 6.5"). You can carry a blanket over your arms and binoculars and/or camera around your neck or in your hands without the case. Guests can use the clear bag and clutch to carry other items. You will continue to have the flexibility to bring a wide variety of approved items into the venue.  Every member of your family may carry a permissible bag.  The key is to not conceal items inside carrying cases, extra bags or bulky containers.