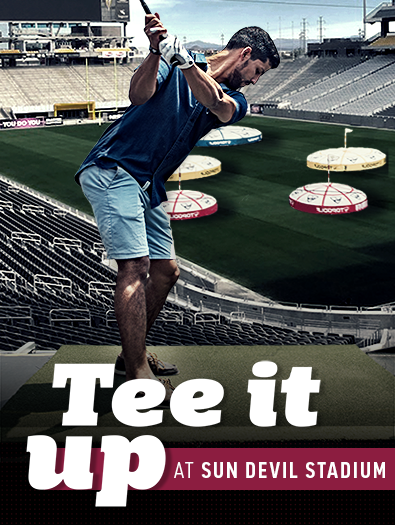 TOPGOLF LIVE
Tickets
Topgolf Live offers an exclusive experience where players hit golf balls from the concourse level of Sun Devil Stadium to on-field, glow-in-the-dark targets placed between 60 and 140 yards from the tee box. Toptracer Range technology tracks the flight path, instantly scoring every shot in an interactive, in-stadium Topgolf game.
Standard Ticket Description:
Please note the purchase of one ticket will mean you receive one spot in a designated bay for one hour.  If you do not purchase an entire bay, others may purchase tickets in your designated bay
Premium Package Description:
You receive one hour of golf play, a special edition Black Clover hat, Topgolf membership card, $10 off Topgolf discount card (valid at participating locations except Las Vegas), 2 drink tickets valid for beer, wine, or liquor, and Premium Ticket designated check-in line
Safety precautions:
Special safety protocols will be implemented throughout Sun Devil Stadium to ensure Topgolf Live offers a healthy and safe environment for players and event staff, including: 
Mandating temperature checks for anyone entering the Topgolf Live event area
Enforcing social distancing practices throughout the venue
Disinfecting golf clubs, tables and hitting bays between every tee time
Washing golf balls after play and before re-use
Placing hand sanitizers throughout the venue
Event Information
Please read our guest information for upcoming Topgolf Live events to ensure a healthy and safe environment below.
All of the practices listed are to be followed for 2021 Topgolf Live events. These are to be implemented in order to keep guests, partners, and staff safe throughout the duration of the event. Topgolf Live staff will work with each venue to adhere to existing procedures and follow local regulations. These practices are subject to change with the most recent updates from national, state and local agencies.
Event Wide
Hand sanitizer stations will be located throughout the event in places such as entrance, registration, the festival area, hospitality spaces, the bays, and the exit.
Communication

Official COVID-19 signage with symptoms and preventative measures from the CDC will be placed throughout high visibility areas.
Public address announcements will be made to remind guests to distance themselves every hour.

Floor markers will be placed throughout the event footprint to encourage social distancing in registration, concessions, activation, and merchandise lines.
STAFFING POLICIES
Protective masks and gloves are required for all part time, full time, and contracted third party staff.
All staff will have their temperature taken prior to venue entry.
Housekeeping staff will be increased throughout the duration of the event to disinfect highly trafficked areas.
Topgolf Live will implement ongoing training to educate staff on new, updated procedures.
REGISTRATION
Guests will be required to have their temperature taken prior to entry into the event.
Topgolf Live staff will encourage guest to socially distance while awaiting check-in by placing floor markers at the entrance.
Additional security lanes will provide space for our guest entering and exiting the event.
Plastic shields will be placed at each registration table to prevent contact between guests and staff.
Electronic waivers will be signed prior to arrival or on the guest's personal electronic device at check-in.
Physical tickets will be limited and only issued if necessary, e-tickets are encouraged.
FESTIVAL ZONE
The festival footprint will be increased to provide room for social distancing.
Sponsorship Activations

Topgolf Live will decrease the amount of partner activations to keep the area open.
Each activation will have sanitizing wipes to clean surrounding surfaces.
The operation of activations with high contact will not be permitted (Topgolf VR).

Topgolf Live is eliminating guest bar games (bean bag toss) until further notice in an effort to reduce the number of shared surfaces.
Highly congregated areas will be reduced.
Contactless payment will be required at concessions and the merchandise stand.
Restrooms

Doors will be propped open for contactless entry/exit where available.
Increased house keeping staff will sanitize the area frequently.
Every other sink and stall will be out of service to aid social distancing.
TEE LINE/BAYS
Golf clubs, tables, and bay rails will be disinfected in between tee times.
No spectators will be allowed on the tee line to minimize the crowd.
Sharing of bays with separate parties will not be permitted.
Topgolf Live golf balls are to be washed after each collection during the event.
HOSPITALITY SPACE
When private suites are unavailable, an increased footprint will be created to socially distance groups.
All dining utensils will be pre-packaged for groups with catering.
Reserved spaces will be disinfected after each party is ends.