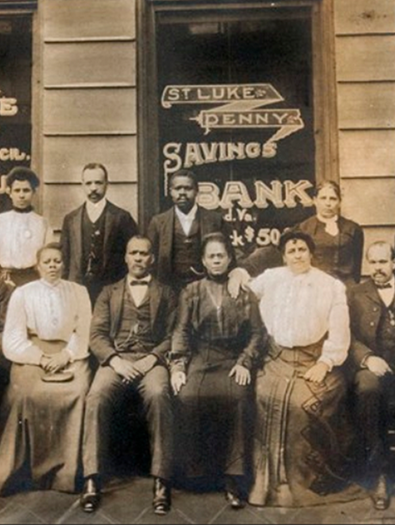 Banking While Black
Experience the exhibit while it's still in Tempe - now through April 17.
Banking While Black is a multimedia interactive physical and virtual art installation created by Paul Rucker.


The project blends art and history to tell stories of the Black Wall Streets of Tulsa, Oklahoma, Durham, North Carolina and Richmond, Virginia, including stories of Black excellence that blossomed in those communities before they were destroyed. The interactive bank experience is enriched with trivia that explores the systemic racism and the economic and physical violence inflicted on Black Americans in the past and present.
The physical installation re-creates a walkable open-air bank space, complete with teller booths, deposit tables, marble slabs, brass fittings, chandeliers and carved doors from the artist's personal collection of vintage bank components. Guests can interact with the bank by scanning deposit slips at virtual teller windows to learn stories and trivia.
The physical installation will be located at ASU's Coca- Cola Sun Deck, a 15,000 square feet of open concept space, at Sun Devil Stadium in Tempe, AZ. Banking While Black will include special events, activities, and learning opportunities for students and the general public.
Banking While Black is commissioned and presented by Arizona State University's 365 Community Union, a department within ASU Cultural Affairs. Project partners include Arizona PBS, the Center for the Study of Race and Democracy, the Herberger Institute for Design and the Arts, ASU Art Museum and W.P. Carey School of Business and Arizona PBS.
 
About the Artist
Paul Rucker is a multimedia visual artist, composer, and musician. His practice often integrates live performance, original musical compositions, and visual art installation. For nearly two decades, Rucker has used his own brand of art making as a social practice, which illuminates the legacy of enslavement in America and its relationship to the current socio-political moment. His work is the product of a rich interactive process, through which he investigates community impacts, human rights issues, historical research, and basic human emotions.
Rucker has received numerous grants, awards and residencies for visual art and music. He is a 2012 Creative Capital Grantee in visual art as well as a 2014, 2018, 2019 MAP (Multi-Arts Production) Fund Grantee for performance. In 2015 he received a prestigious Joan Mitchell Painters & Sculptors Grant as well as the Mary Sawyer Baker Award. In 2016 Paul received the Rauschenberg Artist as Activist fellowship and the Smithsonian Artist Research Fellowship, for which he is the first artist in residence at the new National Museum of African American Culture.
Residencies include MacDowell Colony, Blue Mountain Center, Ucross Foundation, Art OMI, Banff Centre, Pilchuck Glass School, Rauschenberg Residency, Joan Mitchell Residency, Loghave, Montalvo, Hermitage, Hemera Artist Retreat, Air Serembe, Creative Alliance and the Rockefeller Foundation Study Center in Bellagio, Italy. He will be a Master Teacher at the Atlantic Center for the Arts in 2021. In 2013-2015, he was the Robert W. Deutsch Foundation Artist in Residence and Research Fellow at the Maryland Institute College of Art. He was awarded a 2017 John Simon Guggenheim Fellowship, a 2018 TED Fellowship, a 2020 TED Senior Fellowship and the 2018 Arts Innovator Award from the Dale and Leslie Chihuly Foundation and Artist Trust. His most recent award is a 2020 Art for Justice Fund Fellowship.
Rucker is an iCubed Arts Research Fellow and Assistant Professor at Virginia Commonwealth University in Richmond, Virginia and Curator for Creative Collaboration for VCUarts.
 
Field Trip Inquiries: click here
Sponsored by:


Event Information
Banking While Black exhibit hours of operation are Tuesday through Sunday, 9 a.m. to 7 p.m. (closed Mondays).
 

Reservations for free timed-entry experience are required to visit Banking While Black.


 

Face coverings will be required in the exhibit space to protect guests and working staff.


 

Recommended for ages 15+.