Community Union Vision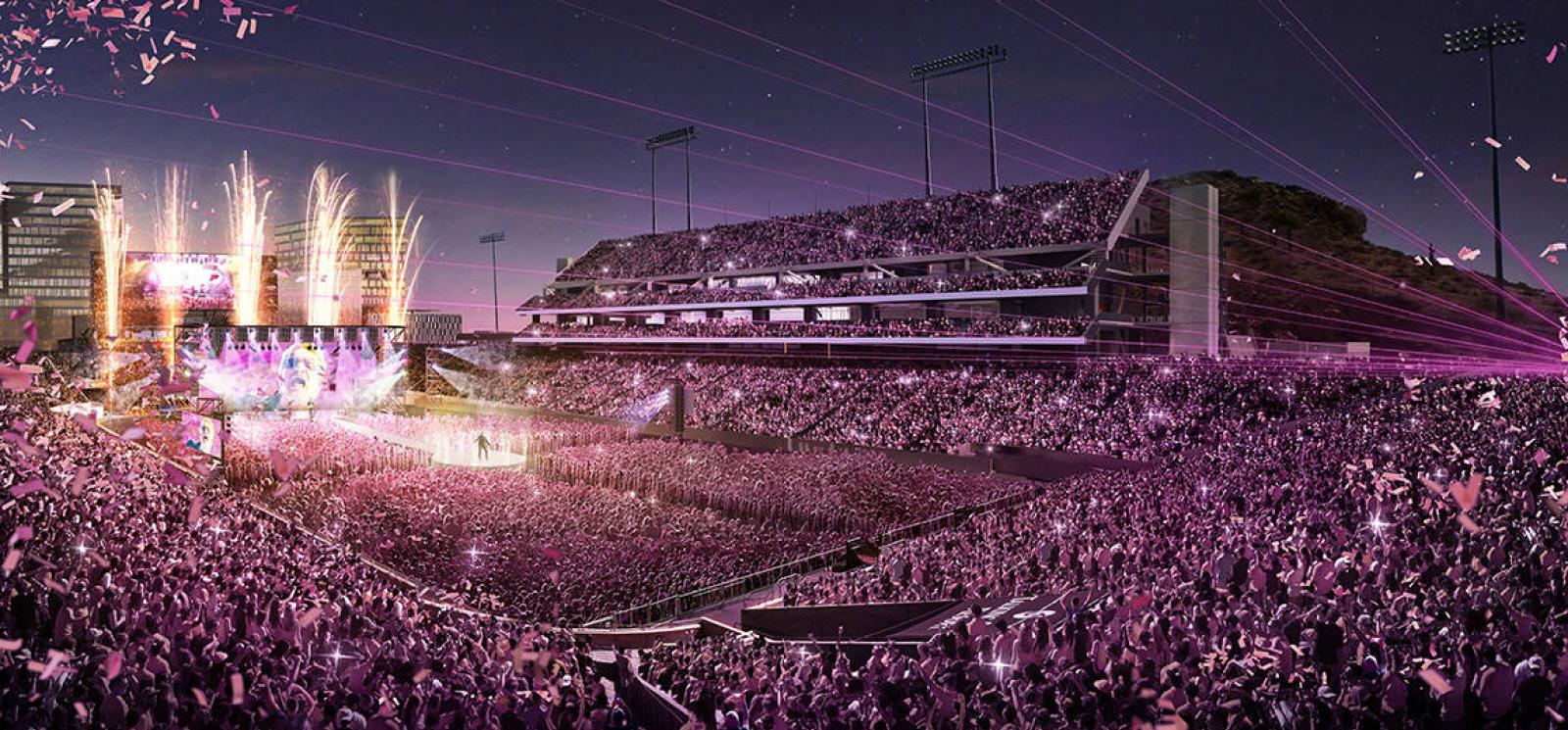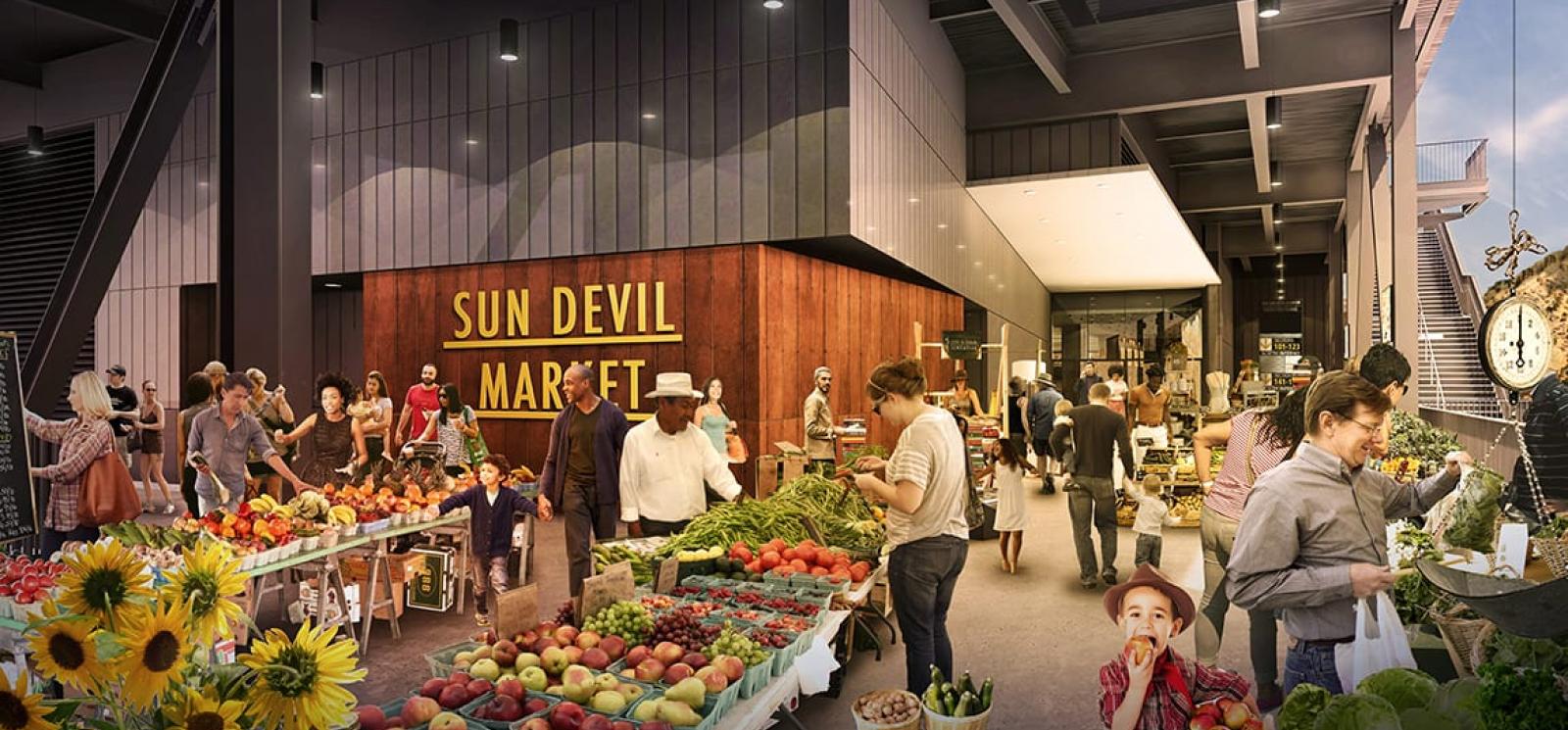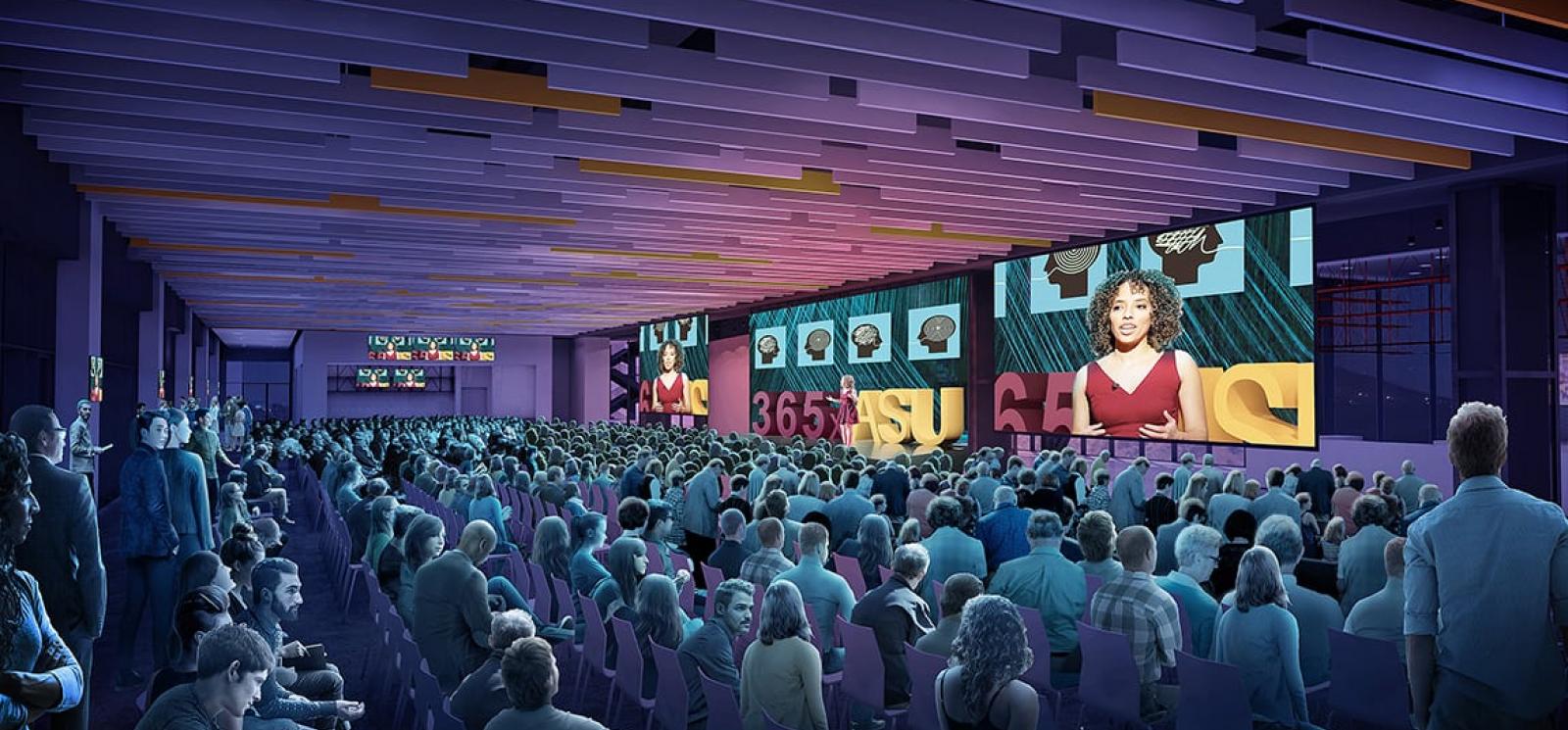 Concerts of all types and sizes
Community Markets and gatherings
A place for exhibitions and symposiums
Your Stadium
A revolutionary 365-day-a-year Community Union with unlimited possibilities.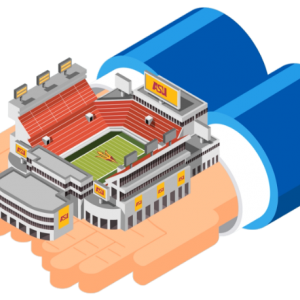 The vision for the ASU 365 Community Union was introduced by Jack Furst (ASU alumnus and 2017 Founder's Day Philanthropist of the Year). Furst's vision was born out of the realization of a huge issue facing cities, universities and even nations: spending big money on stadiums that are utilized on a very limited basis. Most university stadiums cost hundreds of millions of dollars, yet are often only utilized seven to nine times a year. Furst's vision was to reverse from 2 percent utilized to 98 percent utilized. The solution is to abandon conventional thinking, with an innovative new model that transforms the stadium from a football field into a university asset that's utilized 365 days a year. 
As Sun Devil Stadium renovations reach phase III, we are moving forward to make the ASU 365 Community Union a reality. This new Community Union will honor ASU traditions, but will also honor the First Nations peoples who have called this land home for centuries.

Strategically located in the heart of the Valley, the ASU Community Union will be a cultural hub where people can converge on campus to enjoy programming designed for the entire community, with food service as diverse as our student population and activities that will enthrall audiences of all ages. The 365 Community Union will include exciting programming, concerts, film festivals, restaurants and cultural activity to make this a hub for community involvement.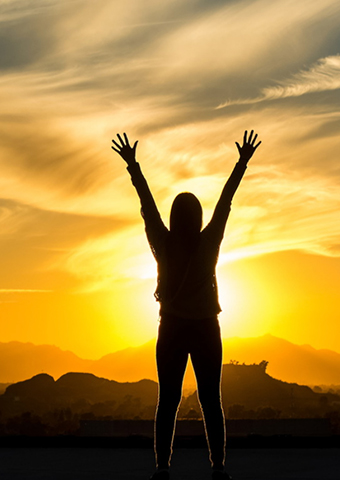 "We are committed to helping students prepare for the pathways they want to follow after university, and our charter makes explicit that ASU takes responsibility for contributing to the public good."

— Michael M. Crow, President, ASU
How everyone wins
ASU Students (across all campuses and online) and Student Organizations USG/GPSA priority is to encourage all students to use the facility on a regular basis, with spaces to study, hang, game and meet, as well as spaces for events, recruiter interviews and seminars.
University/Project Donors
Success to this group is a 98-percent solution with people in the building on a daily basis.
Sun Devil Athletics
Safe and secure environment and top-class sports facility for student athletes to thrive.
ASU Faculty/Staff
A place to showcase student work, faculty lectures, guest speakers and a newsroom for Walter Cronkite School of Journalism and Mass Communication. A multi-faceted event venue to host larger campus events.
ASU Alumni
Give alumni a space that showcases ASU's success and innovation. A living representation of The New American University, that will be a source of pride for all alumni.
City of Tempe
Help make Tempe a regional and National events destination.
Valley Residents
A gathering space where sports thrive, and community and cultural engagement flourish.
Local Businesses
An economic engine that drives people to Tempe and Valley businesses.
ASU's 16 Colleges
A centralized location to interactively display the innovation being produced at all of the colleges.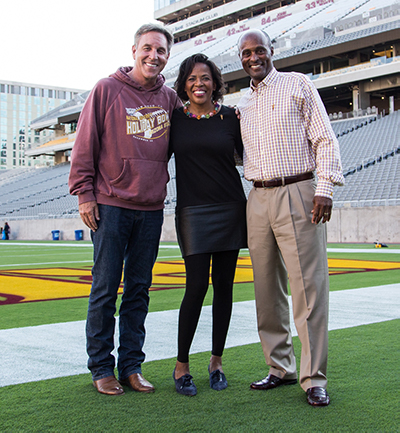 "ASU's 365 Community Union will create an exciting fusion of student life, athletics and our vibrant community here in the Valley of the Sun."
— Colleen Jennings-Roggensack, ASU Vice President of Cultural Affairs
"It's natural for ASU to rethink the improbable. As leaders in innovation, ASU is always using what we have learned from the past, to change and impact the future. Now we're making the improbable become a reality and converting Sun Devil Stadium into a revolutionary 365-day-a-year Community Union with unlimited possibilities!"
— Jack Furst, ASU alumnus, philanthropist and 365 Community Union Visionary
"Sun Devil Stadium is an iconic venue in the Valley and through its reinvention can serve a purpose beyond football gamedays in the fall. 365 Community Union allows Sun Devil Stadium to become a destination for a multitude of events. This belongs to the public. It is not just Sun Devil Athletics." — Ray Anderson, Vice President for University Athletics
Key university priorities
1. Become an example of the expression, "the most innovative American University"
2. Create wins for a variety of participants, on-site and off-site
3. House presidential priorities:
Pat Tillman Veteran's Center
Public Service Academy
Global Sport Institute
Walter Cronkite School of Journalism and Mass Communication newsroom
4. Incredible programming: i.e. concerts, film, community market, outdoor skating, community events, yoga, rentals
5. Conference space, festivals, sports, Sun Devil Athletics, non-NCAA athletic activities
6. Sustainability: 365 will be a physical and programmatic example of the university's sustainability initiatives
7. Sports performance and clinical space
8. Innovative restaurant and food service space that is open 365 days a year
9. ASU Innovation Lounge and student pop-up programming
10. Personality that matches ASU–to be able to succeed in a competitive environment, ASU 365 Community Union must have a personality that matches the project and the ASU charter
11. Be a benefit to all stakeholders: ASU students (across all campuses and online) and student organizations, university donors, Sun Devil Athletics, ASU faculty/staff, ASU alumni, City of Tempe, Valley residents, local businesses, ASU colleges
12. Integrate ASU ROTC into the 365 Community Union
Rental Details
The 365 Community Union venues are available for internal ASU stakeholders as well as external companies and organizations.
Learn more about our opportunities for rentals: