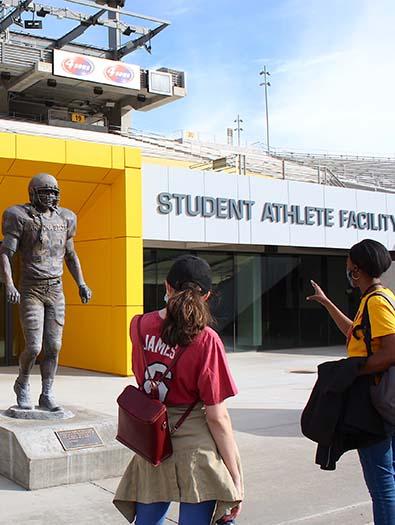 Student Stadium Tours
Calling all ASU Students!
Get a Sun Devil experience like no other with a tour of ASU's Sun Devil Stadium and Desert Arboretum Park. Explore the historic stadium while learning about ASU sports, event fun facts and upcoming stadium events available to the ASU community on this staff-guided walking tour.
All tour groups will meet at the southeast gate of Sun Devil Stadium between the Carson Student Athlete Center and Desert Financial Arena. Groups will tour Sun Devil Stadium's main concourse, head down to the Pat Tillman Statue at the north end of Frank Kush Field and conclude in ASU's Desert Arboretum Park.
You must RSVP to one of the 25 available spots on Sun Devil Sync to confirm your tour booking.
Event Information
Face coverings are strongly recommended.
Before joining the tour, please review ASU's Community of Care plan.
The tour includes a lot of stairs, so wear comfortable shoes and bring a reusable water bottle. Water refill stations are located throughout the stadium if needed.